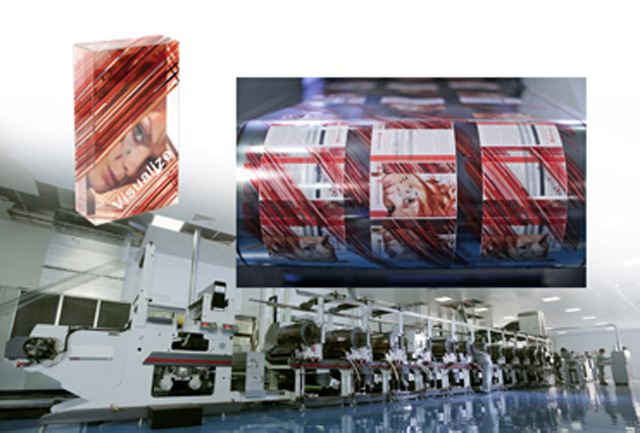 HLP Klearfold, the leading global supplier of visual packaging, has announced a major technology investment — a 26" wide, 13-color, combination printing press that has one rotogravure station and 12 web-flexo stations, up to five of which can be configured for backside printing. In addition, there are four rotary silkscreen and two cold foil units that can be interchanged with any of the flexo stations. The new press provides extreme flexibility and allows HLP Klearfold to accomplish in a single printing pass, what would have required five or more passes using traditional UV offset printing, with off-line silkscreen printing and foil stamping.
According to Steve Frazier, HLP Klearfold's President, "This remarkable, new combination printing press represents a technology step-change in the manufacture of premium-quality clear plastic folding cartons. It produces exceptional print quality and enables far more printing and decorating options, while significantly improving manufacturing efficiencies. With it, we can deliver the highest quality clear packaging and create additional value for our customers."
UV flexo printing produces bolder, more vibrant and more opaque colors on plastic, as well as providing better color stability. HLP Klearfold' s new flexo press will produce exceptional four-color process printing with up to 200-line screens for high-fidelity print reproduction.
To complement the flexo printing, a gravure station delivers the highest quality, most brilliant application of inks containing large particle sizes, such as metallics, fluorescents, iridescents, or pearlescents. The rotary silkscreen stations provide very thick ink films to produce a raised, tactile effect in both inks and coatings, or to create an insulating layer preventing the show-through between front and backside printing. The cold foil stations provide additional aesthetic enhancement, and by applying cold foil on the round, the rotary cold foil units eliminate gas trapping for a smoother application, even on large foil areas. The foil can also be easily over-printed with transparent UV flexo inks for an infinite spectrum of color possibilities.
The new press also offers two die-cutting options: the web can be cut into precise sheets for off-line, flat-bed die cutting, or rewound onto rolls for die cutting on one of several off-line rotary die cutters.
To view a video of the new press, or to request a sample carton printed on it, visit this HLP Klearfold overview page. For more information, contact: HLP Klearfold, 75 Maiden Lane, Suite 808, New York, NY 10038, (888) 457-7225, www.hlpklearfold.com.