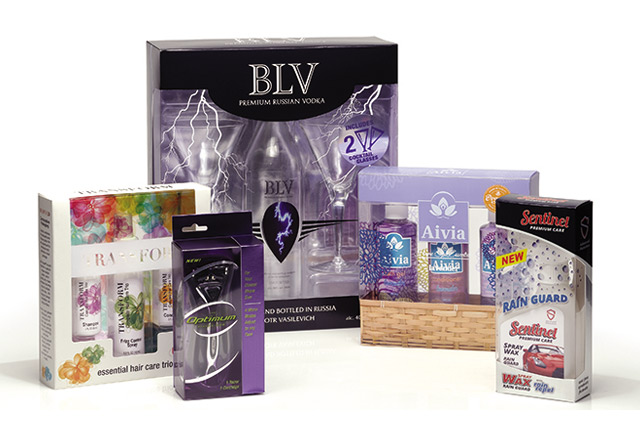 The latest offering from HLP Klearfold, the leading global supplier of visual packaging, is Duofold®, which combines the best attributes of clear, box-grade plastic with paperboard to produce a truly distinctive visual package. "To better serve our customers, we are expanding our visual packaging product offerings to include Duofold plastic/paperboard combination packaging," notes Steve Frazier, President of HLP Klearfold. "Integrating these two very different substrates allows for some very unique structural designs and effects, many not possible in paperboard or plastic alone. It also enables two wholly distinct appearances and textures in a single package."
Soft Crease® scored rigid film can be used to create multiple plastic carton panels or to make windows that wrap around multiple score lines, permitting far greater visibility than conventional windowed cartons.
What' s more, the rigid film adds integrity and strength, allowing a much larger windowed area than is possible using lightweight window film.
Structural design possibilities are nearly endless. For even greater shelf impact, any combination of offset, flexo, and/or silkscreen printing, plus foil stamping and other decorating special effects, can be applied to either the plastic or paperboard panels, or both.
Reinforcing its visual packaging technological leadership position, HLP Klearfold has invested in state-of-the-art assembly equipment to join Duofold carton components. This new joining equipment is extremely efficient, while providing the precise component alignment that is needed for efficient hand loading, as well as filling on automated cartoning equipment.
HLP Klearfold is the world' s largest and most accomplished producer of visual packaging, a manufacturing and printing specialty for over 45 years. A member of the Hip Lik Group of Hong Kong, the company has a world-class production facility in Shenzhen, China and continues to invest in the latest technologies, such as state-of-the-art 13-color combination printing equipment and the proprietary Soft Crease® radio frequency scoring process.
For more information, contact: HLP Klearfold, 75 Maiden Lane, Suite 808, New York, NY 10038, (888) 457-7225, www.hlpklearfold.com.
Photocaption: This Aivia package is an excellent example of the possibilities of HLP Klearfold' s new Duofold combination visual packaging. Its clear box-grade plastic windowed portion showcases the lavender shampoo/conditioner primary packaging inside, while its basket-weave design on paperboard provides a wholly different effect, texture, and finish in the lower portion of the carton.